TCA'S WALK ON THE CAPITOL: THE FROZEN EDITION
As you know, our 88th Legislative Session began on January 10, 2023.  The Texas Construction Association has been planning the biennial Walk on the Capitol for over a year, so everything was scheduled and ready for subcontractors' arrival in Austin on Tuesday, January 31.  Unfortunately, Mother Nature did not receive her invitation, and, boy, did she have other plans which included freezing temperatures and frozen precipitation almost statewide.
We worked with ASA North Texas to schedule 21 appointments for the members in both associations.  As the Texas roads were becoming more dangerous, we were able to pivot and switch our in-person meetings to 15 virtual meetings on February 1.  An additional three  virtual meetings were conducted in the following weeks. 
The Texas Construction Association is focused on five issues for this legislative session:
Securing Reserved Funds / Retainage – We would like to reclassify reserved funds as trust funds. Representative Jeff Leach has filed House Bill 1963.
Documents Incorporated by Reference into Construction Contract – Legislation related to this issue would require the disclosure of those documents referenced in subcontracts but typically out of reach for reference.
Excessive Outstanding Change Orders – We would like to give subcontractors the right to stop work if unsigned and/or outstanding change orders significantly exceed the contract price.
Eliminate Cross-Default/Offset Clauses – This legislation would prevent general contractors from withholding payment to a subcontractor for one project due to an outstanding issue on another.
Public Land/Private Project Bond Requirements

– This legislation would require performance and payment bonds for private projects on public land.  This made it all the way to Governor Abbott's desk in 2021, but he vetoed the bill due to a misunderstanding.  It is expected to pass in both houses and the Governor's Office this session.
While appointments can be made with legislators throughout the entire legislative session, the Walk on the Capitol is a dedicated time for subcontractors to discuss the issues we face every single day in construction.  This event is most effective when many subcontractors can share experiences at the same time with our legislators. 
It is kind of like a classroom of 20 students with a teacher that might not be a good fit.  If one student complains to the principal, he or she is likely to not consider the complaint as seriously as a situation where 10 of the students file the same complaint.  The same is true for our legislators.  They need to hear specific experiences directly from you, the subcontractor, and more voices only illustrate the challenges more clearly.  
Texas legislative sessions are held every other year in odd numbered years for 140 days beginning in January.  TCA organizes the Walk on the Capitol every legislative session, and the event has been scheduled for the end of January or beginning of February for the last three years.  Even without the exact dates, you can block off similar dates for the 2025 Walk on the Capitol.  It is a worthwhile event for our entire industry, and it is fascinating to learn more about the legislative process in Texas. 
Put it on your calendar, and join us in 2025!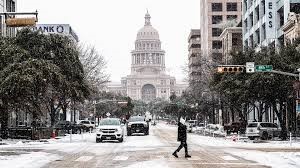 MEET THE PRESENTER - JEFFREY BREWSTER
Mr. Brewster leads execution for all valuation engagements in collaboration with his colleagues. He has led the Valuation Services team for Baker Tilly in the Texas as part of the Consulting Services group. He has over thirteen years of business valuation experience in which he has performed over 1,500 valuations for publicly traded and privately held companies in the retail, healthcare, and technology industry. He has testified in Texas and Michigan, completed Commercial Reasonableness and Fair Market Value ("CR FMV") analysis related to the Anti-Kickback statue of the Stark Law, been retained to perform patent valuations, completed valuations for gift and estate tax planning purposes, performed valuations of ESOPs and privately held companies and completed valuations related to purchase price allocations, goodwill impairment testing and, 409(a) valuations.
Mr. Brewster's professional background includes over fifteen years of business valuation experience. He has performed valuations for a variety of companies across several industries including the banking and investment management industry. He has held investment management roles at Merrill Lynch and Harris Trust & Savings Bank in Chicago. As a Financial Consultant with Merrill Lynch in Naperville, IL, Jeffrey performed equity analysis on stocks included in client portfolios and directed investment selection strategies. In his position as a Portfolio Manager and Research Analyst with Harris Trust & Savings Bank in Chicago, Mr. Brewster covered over 30 companies using information sources that included financial
financial statements, press releases, investment representatives, SEC, and other regulatory filings in order to estimate the future value of various securities. Promoted to Associate Vice President, Jeffrey managed clients' portfolio assets and assisted with business development presentations to high-net-worth individuals, plan sponsors, foundations, and corporations.
Mr. Brewster earned a Bachelor of Science degree in Finance from Eastern Illinois University and a Master of Business Administration from Loyola University, Chicago with concentrations in Finance and Economics. He is a CFA Charter holder, a designation awarded by the CFA Institute. The CFA designation is awarded to candidates
who have a minimum of four years of acceptable professional experience in the area of investment analysis and have passed three examinations covering ethical and professional standards, investment valuation and management, financial statement analysis, asset valuation, economic analysis, portfolio management, and performance presentation standards.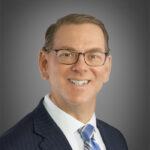 TOSS & TASTE
Cornhole Tournament & Chili Cookoff
Hosted with APWC
Thursday, March 23
2:00 – 5:00 p.m.
$10.00 per person
Thank you to our Sponsors!
Anderson Paving
Cutler-Smith, P.C.
Ensley-Benitez Law
Gordon Highlander
King of Texas Roofing
Lawns of Dallas
SitePro Rentals
Sitmatic
Staley Steel
SUBCONTRACT LANGUAGE SEMINAR
Presented by Spike Cutler
Thursday, April 6
11:00 a.m. – 4:00 p.m.
$80.00 per person
Includes Printed Materials, Boxed
Lunch, & Validated Parking
Park Central 7
Education Room
12750 Merit Drive  |  Dallas 75251
Sponsored by:
PCL Contract Bonding Agency
Unity Insurance Partners
Cutler Smith, P.C.
SAM UNIVERSITY
Breaking Down GC Pay Applications
Tuesday, April 18
4:00 – 6:00 p.m.
$30.00 per person
SAM MEETING
Steer Clear of Bank Fraud
Thursday, May 4
4:00 – 6:00 p.m.
$50.00 per person
Maggiano's Little Italy
6001 W. Park Blvd. | Plano 75093
OSHA PENALTIES - ONWARD AND UPWARD!
The Occupational Safety and Health Administration (OSHA) has the authority to periodically adjust the penalties it assesses in connection with citations and penalties to adjust for inflation. Unsurprisingly, they have done so, but with a twist this time.
PENALTIES ARE HIGHER
It comes as no big newsflash that penalties assessed by OSHA are increasing; the new maximum penalty for a  failure to abate (failure to correct a safety violation) has been increased to $15,625 per day beyond the abatement date contained in the Citation. In addition, if a cited entity has committed a willful or repeated violation, the  maximum penalty has been increased to $156,259 per violation estimation point
AND, PROCEDURES ARE TOUGHER
Perhaps more interesting, however, are procedural changes that OSHA has announced. OSHA is now implementing a new policy they call "instance by instance" (IBI).  OSHA intends to use IBI citations for what they call "high gravity" violations of OSHA safety standards. Examples could include violations to standards for trenching, fall protection, permit-required confined space, machine guarding, and lockout/tagout, and the practical effect is significant – citations which under current policy might be issued as a single citation with multiple items will now be issued as multiple individual citations.
How does that hurt?
Under existing policy, IBI citations applied only to willful violations, violations which arose out of purposeful action by the cited party,
 rather than inadvertence. Now, each violation will be subject to a separate citation such that, for example, instead of being tagged with a penalty of $15,625 for a serious violation comprised of three standards violated, OSHA could now issue three separate citations, with an aggregate penalty value of $46,875!  Besides making penalties higher, this approach could harm the ability to negotiate good-faith settlements when citations are issued.
OSHA has also announced its intent to publicize its  enforcement process by issuing press releases whenever IBI citations are issued against an employer.
The new standards will be in effect from the date which is 60 days after January 26, 2023.
Good subcontractors do everything they can to take care of their employees, and that includes implementing safety practices; safe jobsites and healthy employees are the prime motivation for subcontractors, but the ever-increasing cost of OSHA penalties should certainly be a strong motivator, as well! So, stay safe out there.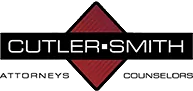 Sewall "Spike" Cutler
214.219.0800
scutler@cutler-smith.com
SAM LIEN INFORMATION SERVICES
SAM collects and compiles the information on Mechanics Liens filed in Collin, Tarrant, and Dallas Counties on an ongoing basis. This information is available in a searchable spreadsheet on our website for our members. We are able to observe some trends and common owner issues. During our regular meetings, we invite our attendees to share their work experience with General Contractors, Engineers, and Architects as a way to help others when evaluating contracts and projects. Our members find these two features the most valuable aspect of their membership in SAM.
Contact Carrie Buckley today for more information – 817.266.1909 or director@sam-dfw.org.
MOST LIENED COMPANIES - 2023
Richardson Gateway LLC
Hartman Income Reit or Hartman Spec LLC
**Richardson Gateway LLC Project Information – Core Gateway Project, 150 W. Main Street, Richardson
General Contractor – Links Construction
THE GLOBALLY HARMONIZED SYSTEM (GHS)
OF CLASSIFICATION AND LABELING OF CHEMICALS
· OSHA updated the Hazard Communication standard in 2012 to align with the Globally Harmonized System (GHS)
· Standard phrases and pictograms are now used to communicate chemical hazards
· Labels must contain:
 · Name, Address and Telephone Number of chemical manufacturer, importer or other responsible party
     · Product Identifier – "name" of product
      · Signal Word
     · Hazard Statement(s)
     · Precautionary Statement(s)
     · Pictogram(s)
· Signal Words: Used to indicate the relative level of severity of the hazard, there are two signal words:
     · Danger – Used for more severe hazards
     · Warning – Used for less severe hazards
· Hazard Statement(s) – A statement assigned to a hazard class and category that describes the nature of the hazard(s) of a chemical, including, where appropriate, the degree of hazard, e.g. Fatal if Swallowed
Precautionary Statement(s) – A phrase that describes recommended measures that should be  taken to minimize or prevent adverse effects resulting from exposure or improper storage or handling.  Four types of statements have been assigned to hazard classes and categories:
     1. Prevention
     2. Response
     3. Storage
     4. Disposal
· Pictogram(s) – May include a symbol plus other graphic elements such as a border, background pattern or color.  Intended to convey specific information about the hazards of a chemical.  Eight designated pictograms and one non-mandatory.  Black symbols on a white background, with a red diamond border. 
· Material Safety Data Sheets (MSDS) are now called Safety Data Sheets (SDS)
Sourced from OSHA publications 3492 & 3636
WI Department of Safety & Professional Services, April 2016
Cornerstone Safety
Joe Smith
jssafety.cs@gmail.com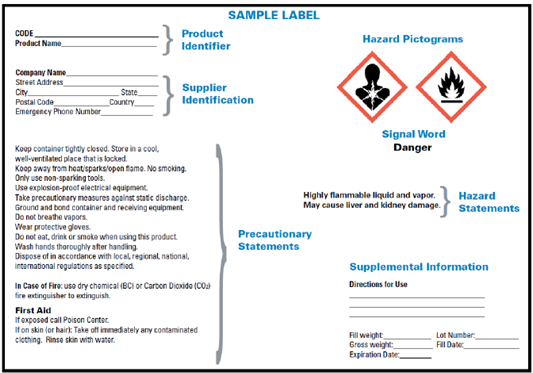 GLOBALLY HARMONIZED SYSTEM (GHS) PICTOGRAMS
NEW MEMBERSHIP BENEFIT - NACM CREDIT REPORTS
The National Association of Credit Management (NACM) and SAM have formed a partnership with the purpose of providing more information to you about general contractors.  NACM Southwest provides credit reporting services to its members.  As a member of SAM, you have access to the same information. 
This information can also be used to evaluate suppliers, too.  If you are experiencing issues with a supplier,        perhaps a credit report can help you see if they are experiencing payment performance issues as well. 
You will begin to see NACM Southwest's Executive Director, Abby Odneal, and Tony Clark at our regular meetings and events.  Just as we allow Spike Cutler time to search his database for history with General Contractors during our BPI portion of the meeting, we will allow time for Abby and Tony to research information in the NACM database.  You may submit a request for information prior to the meetings to allow NACM time to search thoroughly for       information. 
You will also have access to NACM's seminars and webinars through this partnership.  A couple of our SAMU presentations were inspired by the programs NACM Southwest offers. 
The SAM Board of Directors are very excited to begin this partnership with NACM Southwest.  As our partnership grows, we will strive to provide additional services and information to SAM     members.
Please contact Carrie Buckley if you have any questions. 
NEW TCA MEMBERSHIP BENEFIT - COLLECTIVE 401(K) PLAN
The Texas Construction Association is now offering the Texas Construction Association Retirement Collective 401(k) Plan exclusively to Association members. As a member of SAM, you are also a member of the TCA, so you have access to this new benefit.
This program provides many features & benefits that aren't typically available to Employers who may be considering providing a 401(k) Plan & for those who currently have a Plan. There are many benefits of the Texas Construction Association Retirement Collective 401(k) Plan. The primary benefit is the critical Fiduciary protection this program provides to our members.
We invite you to attend a 1 hour webinar detailing the Texas Construction Association Retirement Collective 401(k) Plan.
Please join us for the "Introducing the Texas Construction Association Retirement Collective 401(k) Plan"
Tuesday, March 7, 2023 at 2:30 PM (Central Time)
To join by video system:
Dial 25960609059@joinameritas.webex.com
You can also dial 173.243.2.68 and enter your webinar number.
To join by phone:
+1-415-655-0001 US Toll
Access code: 2596 060 9059
We look forward to presenting the Texas Construction Association Retirement Collective 401(k) Plan to you!
HAPPY 100th BIRTHDAY TO THE DEPARTMENT OF LABOR
President William Howard Taft signed the act creating the U.S. Department of Labor in his final hours as president on March 4, 1913. In the decades following, the department has supported the interests of workers, jobseekers and retirees across the country. We've reduced workplace fatalities and recovered billions of dollars in stolen wages and benefits. Here are a few things you might not know about the Labor Department.
We're younger than Labor Day –

Americans first celebrated Labor Day in 1882, and it became a federal holiday in 1894 – nearly 20 years before the creation of the Labor Department.

We put our own spin on the idea of "ladies first." – The Labor Department was the first Cabinet agency led by a woman, Frances Perkins.  Six women have held the title since then, giving us the record not just for the first, but for the most women secretaries as well. Many of the women who followed in Perkins' footsteps have blazed their own trails. Elaine Chao was the first Asian American woman in the Cabinet, and Hilda Solis was the first Hispanic woman.  Alexis Herman was the first African American to serve as Secretary of Labor.  And Elizabeth Dole was the first woman to lead two different departments for two different presidents (Labor and Transportation).
We didn't always wear pants – The women, at least. In fact, when the department's female employees started wearing pants to work, it was notable enough to merit a mention in the newsletter. "Fashion forward" isn't a phrase typically used to describe the department, but in the 1970s, we were ahead of other federal agencies in officially allowing women to work in pants, thanks to Elizabeth Duncan Koontz, the director of the Women's Bureau and an advocate for women's rights.  Pants proved to be very practical, and the rest is history. 
Our secretaries' side hustles are next level – Being a Cabinet member would be a pretty impressive accomplishment for most people, but for the 29 men and women who have served as secretary of labor, it's just the beginning. Our first secretary, William Wilson wrote poetry.  Arthur Goldberg served as both a Supreme Court justice and ambassador to the United Nations. George Shultz also served as the director of the Office of Management and Budget,   Secretary of the Treasury and Secretary of State. And Frances Perkins is a saint in the Episcopal church.
Our assistant secretaries are pretty impressive, too – If you ever start to feel smug about your personal accomplishments, take a look at J. Ernest Wilkins' resume. As assistant secretary of labor for international affairs, Wilkins was the first African American to attend a Cabinet meeting. He earned a PhD from the University of Chicago before his 20th birthday (the third of five science degrees he would earn in his lifetime). He was also a mathematician, mechanical engineer and nuclear scientist, who worked as a physicist for the Manhattan Project.
We are the original weekend warriors – In that we enforce the law that created the 40-hour workweek. Early twentieth century labor activists had long advocated for clearly defined work hours and a minimum wage – two causes championed by Secretary Frances Perkins. The 40-hour workweek and the minimum wage became law with the passage of the Fair Labor Standards Act in 1938, and we've been enforcing it ever since.
Visit www.dol.gov to learn more about our Labor Department.
By Laura McGinnis, Department of Labor Blog
OUR ASSOCIATION LEADERSHIP
Lorie Welch – Woodwright
President
Communications Committee Chair
Eric Hernandez – USI Southwest
Vice President
Membership Committee Chair
Debbie Parker – King of Texas Roofing
Secretary
Safety Committee Chair
Bryan Kindopp – Staley Steel
Treasurer
Becca Neu – Neuco & Associates
SAM University Committee Chair
George McGraw – PlainsCapital Bank
Government Affairs Committee Chair
Josue Garay – Garay's Concrete Work
Director
Matthew Singel – Anderson Paving
Director
Spike Cutler – Cutler-Smith, P.C.
Legal Counsel
scutler@cutler-smith.com
How Can You Help SAM?
We need committee members to help brainstorm and execute new ideas that the committees decide to implement in SAM.
This Association was created for YOU, the subcontractors in Dallas-Fort Worth.  Your involvement is the key to your getting what you want from SAM! 
Contact Carrie to sign up as a committee member. 
Subcontractors Association of the Metroplex
Carrie Buckley, Executive Director
P.O. Box 210261  |  Bedford, Texas  76095
817.266.1909